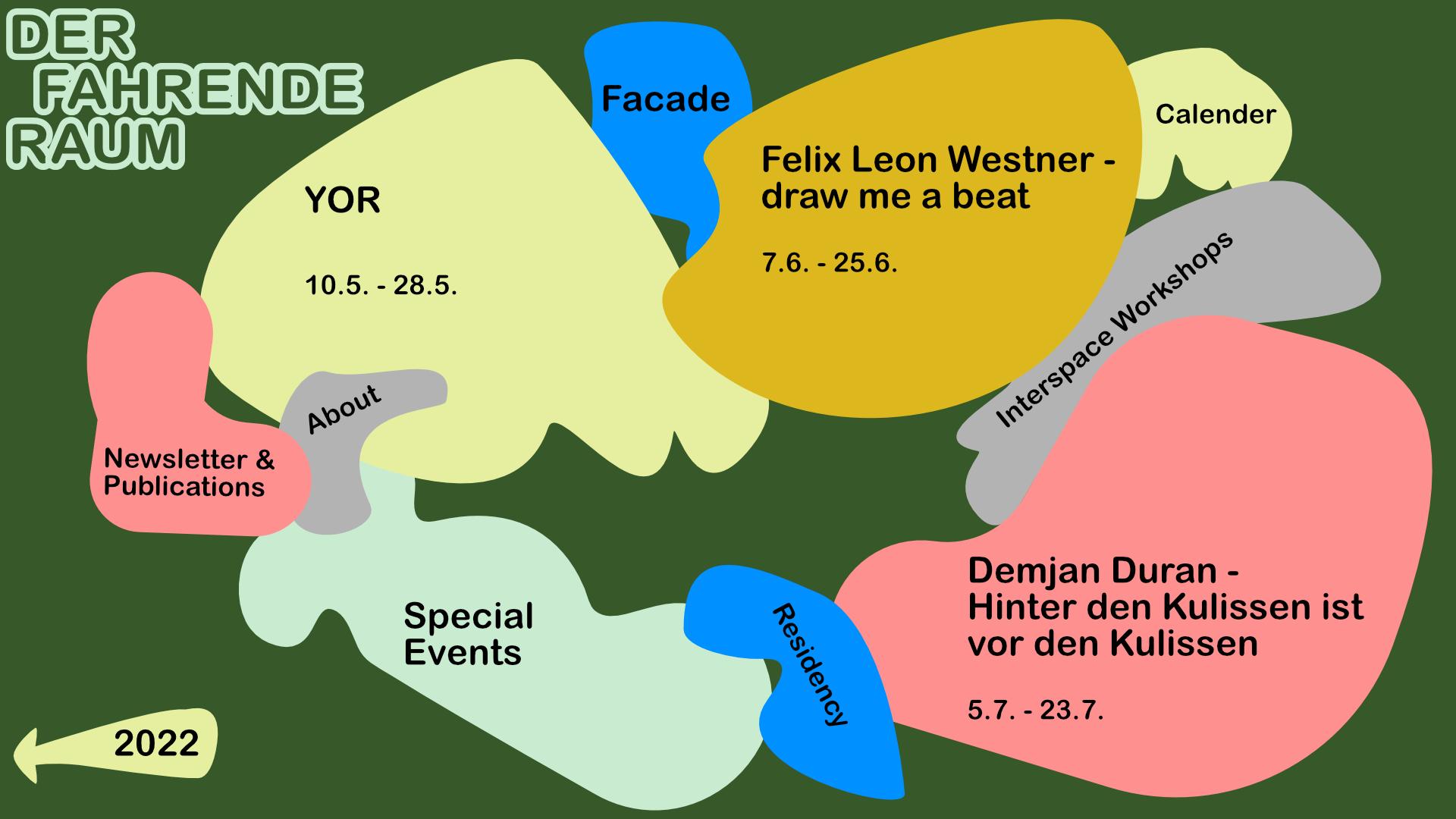 YOR
YOR
Aktionsraum 1
The first Aktionsraum will be occupied by the collective YOR. YOR are Nataly Hulikova, Toni Mosebach and Susanne Beck.
More information will follow soon.
Facade
the river is waiting by the door 
Fassadenbespielung
von Marios Pavlou
Marios Pavlou is a multidisciplinary artist based between Germany and Cyprus. In their practice they perform under the name "Cievil Momo", creating hybrid visual environments that act as installations as well as platforms for live performances. Their language is based on a reality through fiction within installation, performance, moving image, writing, and music to share processes of desire, identification and sexuality.
In this year's Fassade installation, "The river is waiting by the door" they draw inspiration from the Book of the Dead and the Ennead of Egyptian Gods. They signify a path that depicts a reincarnation of an entity that escapes from one body to another. Just like water.
It swifts face and adapts to the needs of the inhabited. This path establishes a common ground between the depicted inhabited bodies, the passengers and the surroundings. The installation is accompanied by a spell/poem titled: Spell 187 / Spell for passing by entities that constantly change. Throughout their artistic practice Pavlou have been building up a language between
storytelling and materiality. The body borders and the outside world has always been one of the main focuses in the body of their work.


"In my understanding, fluidity is a drive that is imposed not only in myself and my own body but in everything that surrounds me. Starting from natural habitats like lakes and the seaside I was always eager to explore the idea of what makes a body."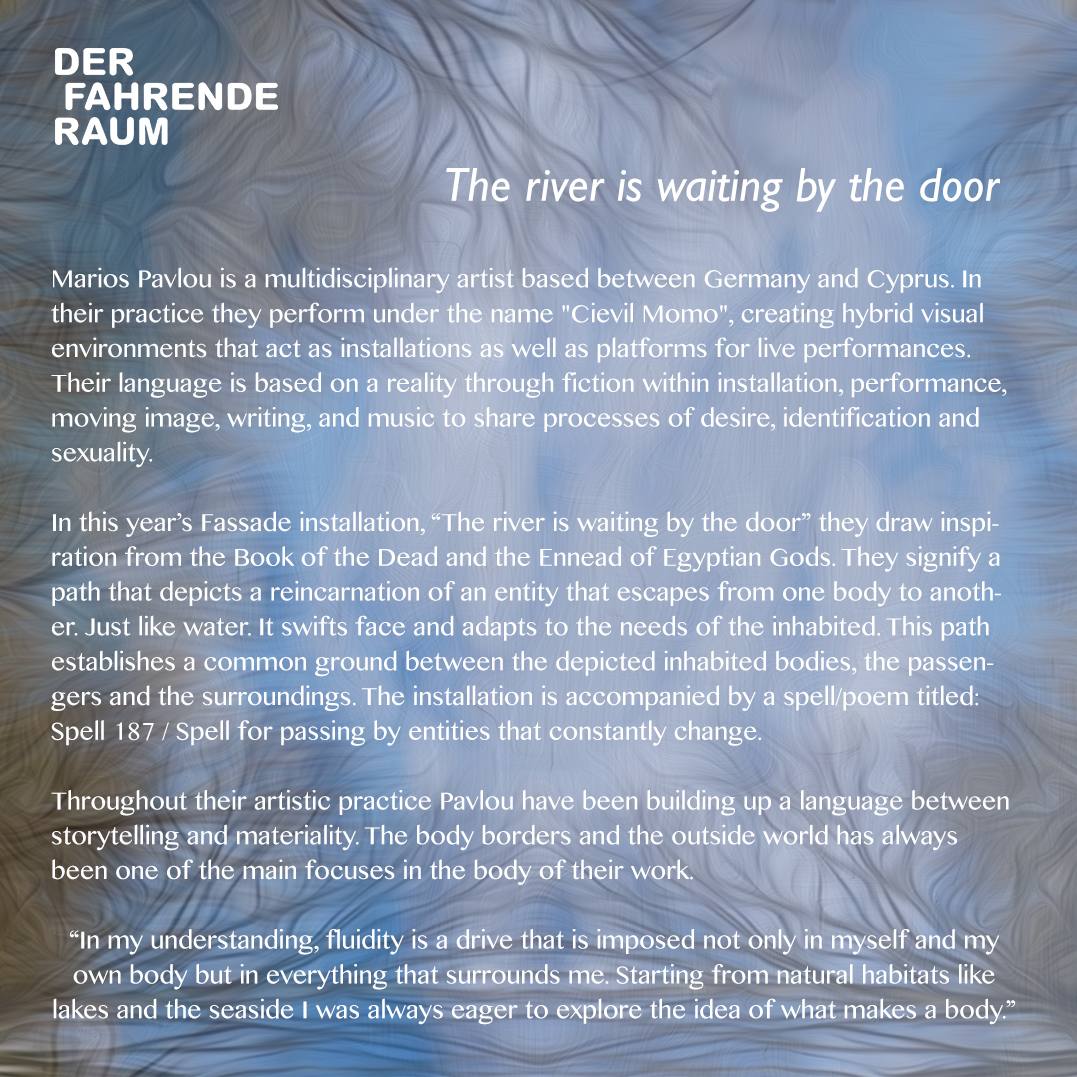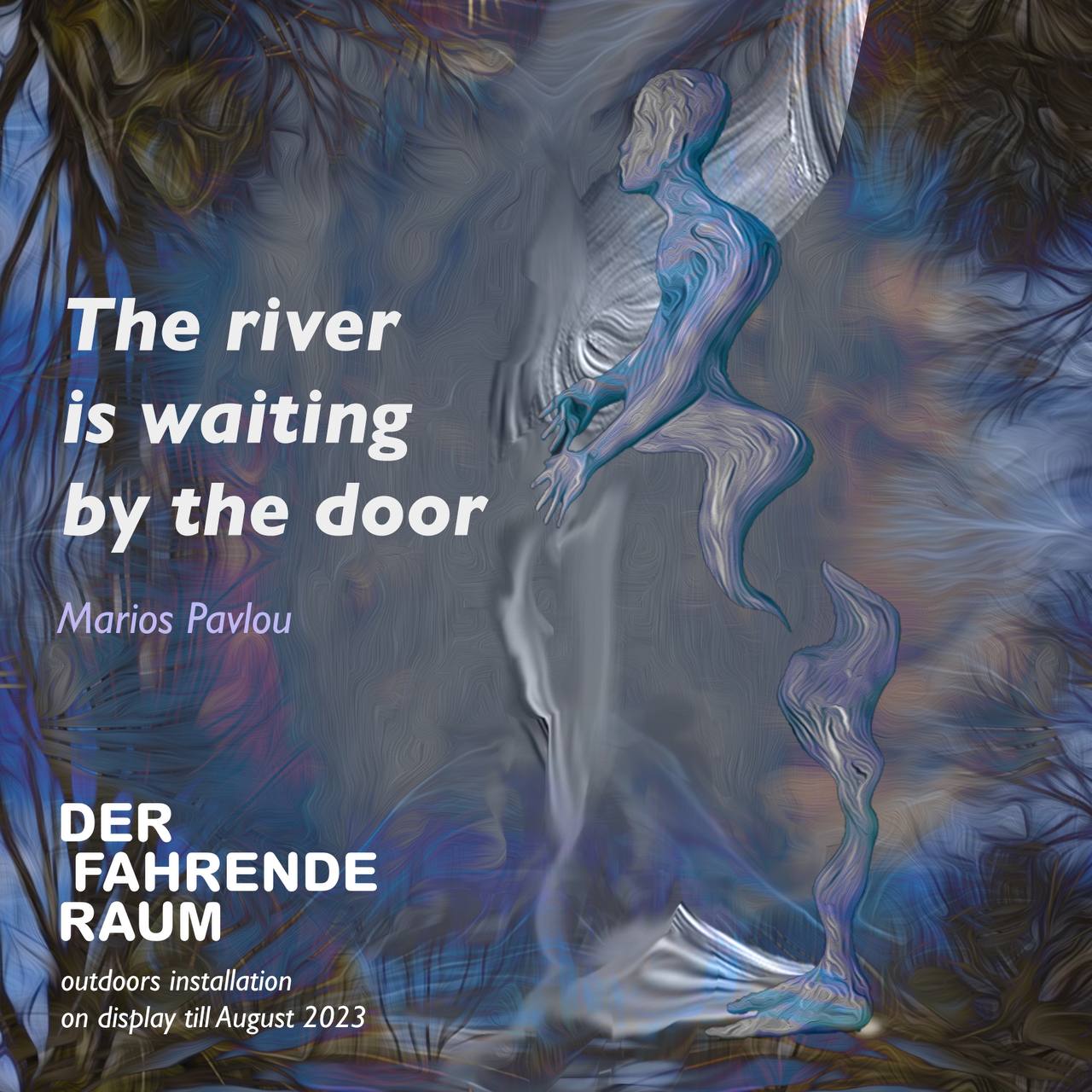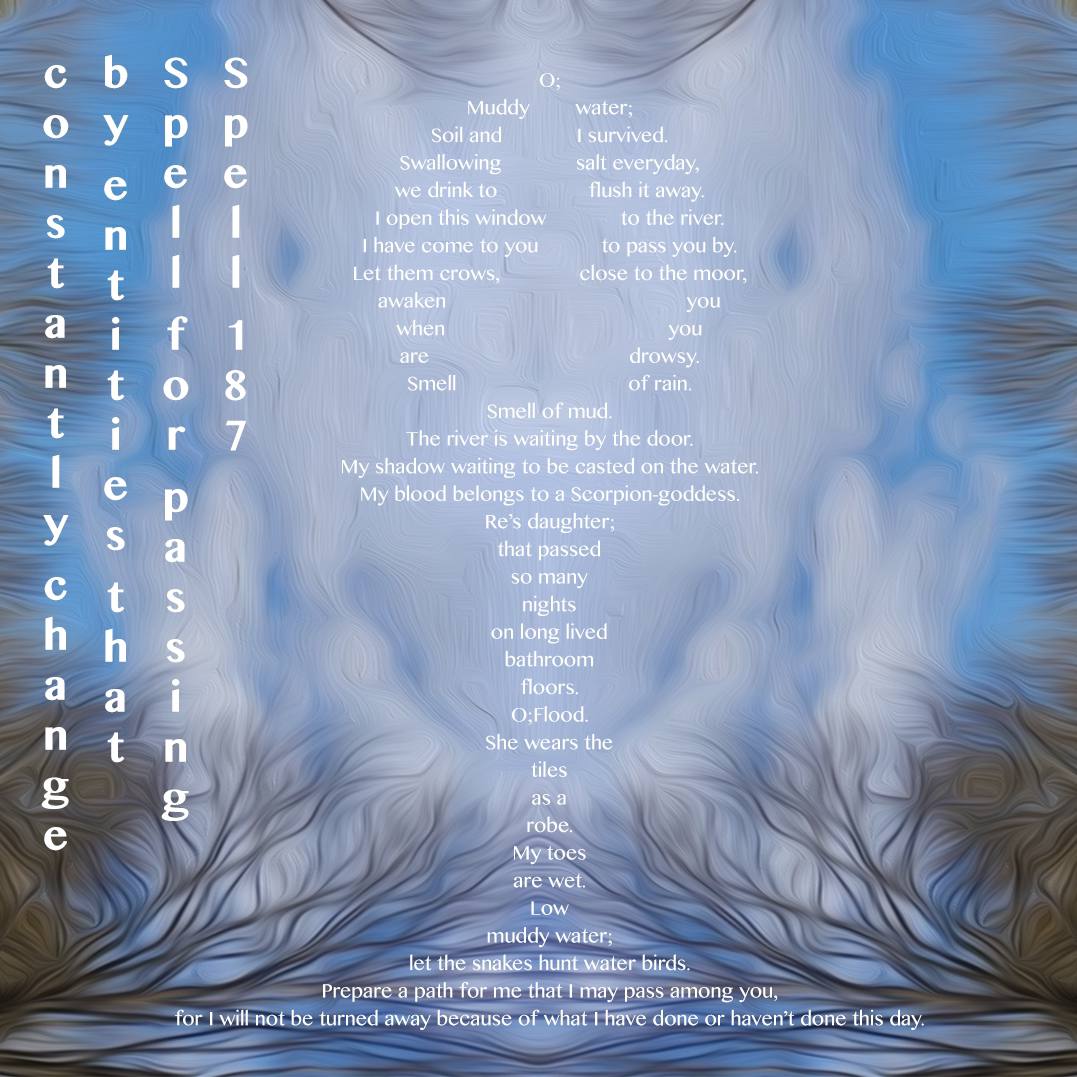 Felix Leon Westner - Mal mir ein Lied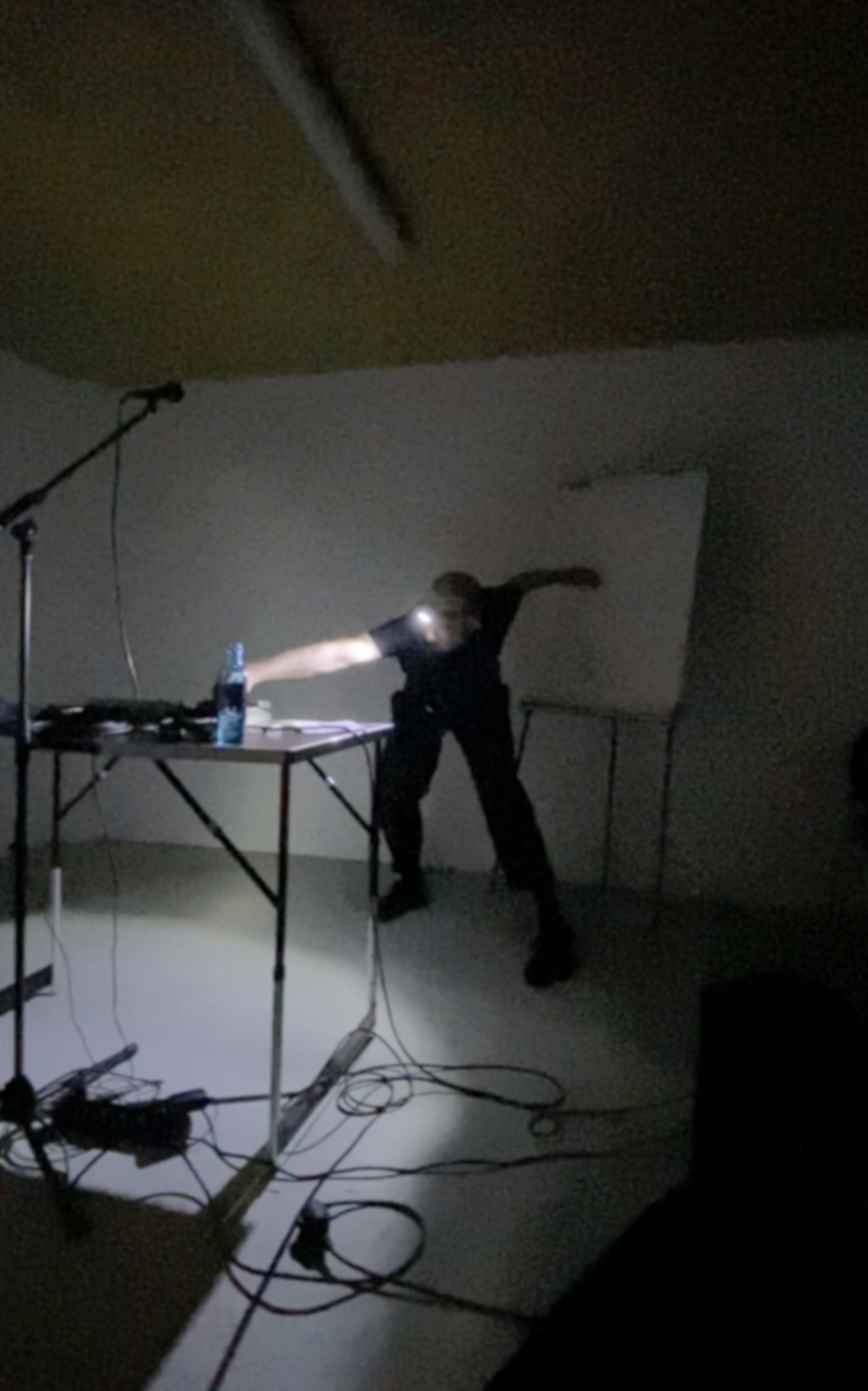 Felix Leon Westner
draw me a beat
Sometimes you search for a song and find only the remix and then it's almost better than the original
Aktionsraum 2
This Aktionsraum will be about translating sound into drawing and drawing into sound.
We will playfully develop our own rhythms as well as learn the basics of beatboxing and how to use a looper.
The Fahrende Raum becomes a sound and drawing laboratory in which we will transform our self-made music into drawings and make written images audible.
Earworm, memory, drawing, loop, beat, phonetics, concrete poetry...
The second Aktionsraum will be staged by Felix Leon Westner.
For the participants he opens his own sound- and word-based artistic work. Felix draws and makes music, mostly at the same time in his performances.
June 7 to June 25
open wednesdays, thursdays, fridays, sundays from 4 to 7 p.m.
Calendar
Calendar
Explanation
23 There's no program at the Fahrende Raum
24 There's a Aktionsraum at the Fahrenden Raum
25 There's a Interspace Workshop at the Fahrenden Raum
May
June
July
Zwischenraumwerkstätten
Interspace Workshops
The interspace workshops take place in the one-week period between the action spaces.
Opera Collective DIVA
From June 27 - July 2, 2023, the Opera Collective DIVA will perform the second interspace workshop at the Fahrende Raum.
The opera collective DIVA consists of Samuel Fischer-Glaser, Nikolai Gümbel, Sophie Schmidt and Angela Stiegler.
More info will follow soon.
Demjan Duran - Hinter den Kulissen vor den Kulissen
Demjan Duran
Hinter den Kulissen vor den Kulissen (working title)
Aktionsraum 3
The third Aktionsraum is designed by Demjan Duran.
Demjan makes theatre, e.g. about Turbofolk or Monica Seles.
Residency
juca fiis
Residency
Every year, the Travelling Space invites an international artist to Munich for a four-week residency.
This year's residency artist is juca fiis from Sao Paulo.
More information about the residency workshop at the end of July will follow soon.
Special Events
Special Events
This year's special event consists of two one-day events and is aimed at adults interested in art and culture.
About
DER FAHRENDE RAUM
The Fahrende Raum is a room made of wood with a curved roof. Two sides of the room can be unfolded so that the room opens to the outside (and you can run through). Every summer it is set up in a green space or park in a different part of Munich. First it was in Freimann, then in Neuperlach and in 2023 in Moosach.
Fine material and rough work equipment are stored in two construction site containers. In addition to all these objects, invited artists are on site and a team, also artists. Together with them, children, young people and adults can realize artistic actions free of charge and without registration in so-called Aktionsräumen.
Initiated and conceived by the artist Maximiliane Baumgartner, influenced by the action pedagogy of the KEKS group, among others, the project initially began in 2015 in a former supermarket in Freimann. Together with Jochen Weber (Hamburg), Maximiliane Baumgartner then designed and realized the mobile artistic architecture, in which art educators, artists and art mediators - from Munich and elsewhere - create spaces and occasions for collaborative artistic research and action together with the participants on site. You can also find more information here: https://archiv.fahrender-raum.de/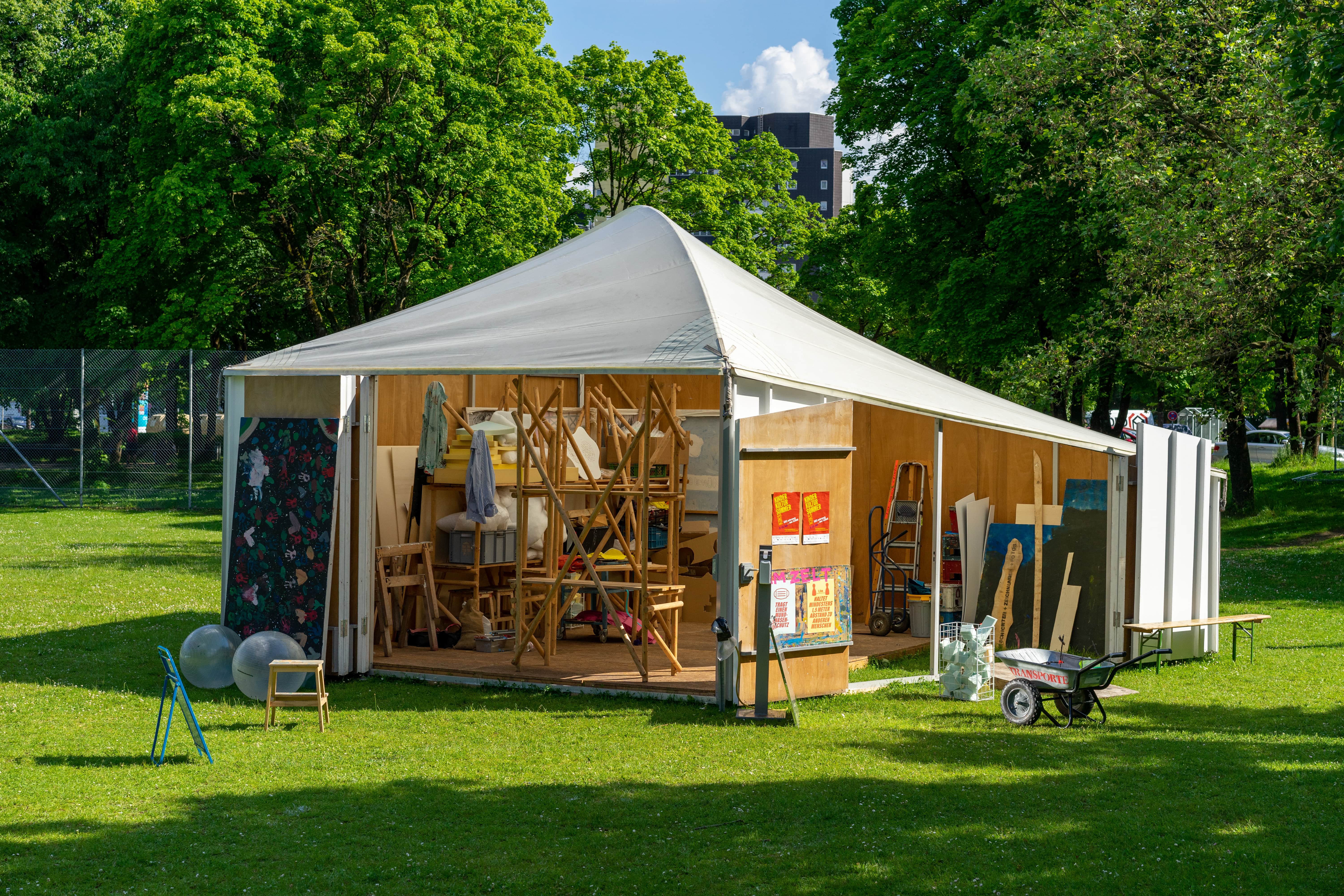 The artistic director since 2022 is Sophia Köhler.
The following artists are also taking part: Maximilian Dettenthaler, Alicia Fackler, Lucia Schwab, Chalo Schwaiger, Nicola Bizzarri.
DER FAHRENDE RAUM
Opening hours
Wednesday, Thursday, Friday, Sunday from 16-19h
All programmes are free and without registration
Groups of eight or more children please register at info@fahrender-raum.de or 089/341676
In the green space Am Hartmannshofer Bächl in Moosach, Munich
Entrance at the corner of Allacher / Untermenzinger Straße
Or Dillinger Str
Next to the table tennis tables
Arrival
U3 Moosach
Bus 162 163 164 165 Station Untermenzinger Straße
Bus 169 Station Dillinger Straße
Newsletter and Flugschriften
Newsletter and Publications
Would you like to receive the latest information about the Fahrende Raum by e-mail?
You can subscribe to our newsletter here:

The Fahrende Raum publishes a publication every year.
You can view past publications here:
Archive "Flugschrift online"
The Flugschrift No. 7 (2022) is available on request. Please send an email to info@fahrender-raum.de
You can browse through the archives of our past programmes here:
2015 - 2019
2020 - 2021